Hotels-Restaurants

Hotels-Restaurants
municipality of Peyre en Aubrac
It is well known that the department of Lozère is a welcoming land with great gastronomic wealths. Find below the list of all the hotels-restaurants located in Aumont-Aubrac and in the other villages of Peyre en Aubrac, for a break in peace between Aubrac and Margeride. We update our lists regularly to provide you with the most accurate information and facilitate your search for a memorable stay in our region.
---
LA MERELLE
Tel. : +33 6 43 69 90 41
Email adress : aubrachotels@gmail.com
Website : https://www.aubrac-hotel.fr/
Adress : Place du Foirail
48130 PEYRE EN AUBRAC
Located in the center of Aumont-Aubrac, between the natural regions Margeride & Aubrac, and along the GR65, the Aubrac Hotel welcomes you in a warm family atmosphere. Guests can relax at the hotel bar or enjoy the traditional cuisine with many local specialties. Come and discover the beautiful landscapes of Lozère !

---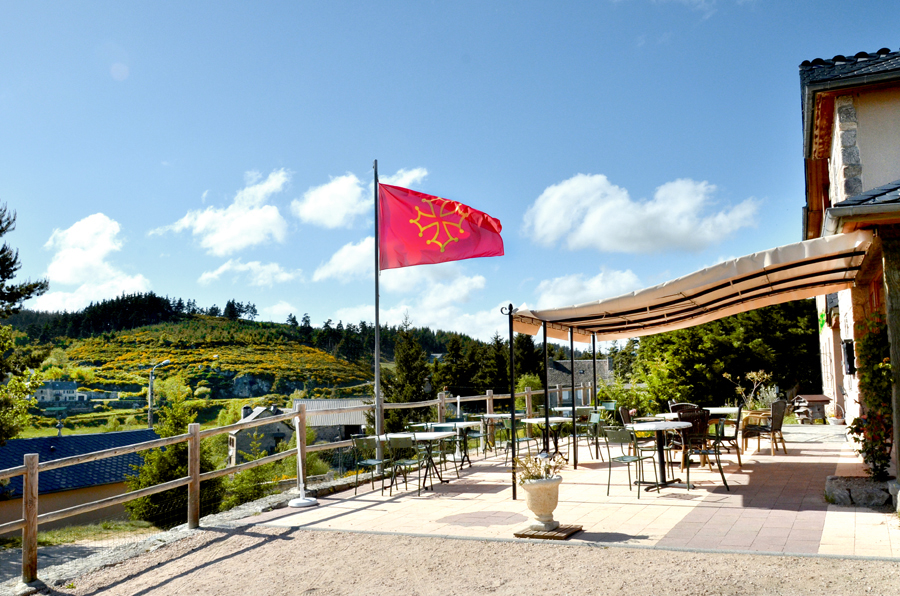 LE REGIMBAL
Fixed telephone : +33 4 66 42 89 87
Fax : +33 4 66 42 65 53
Email address :
info@hotel-le-regimbal.com
Website (URL) :
http://www.hotel-le-regimbal.com
Address : Javols
48130 PEYRE EN AUBRAC
Located on the "Hautes Terres" of the French Languedoc-Roussillon region, in the land of Peyre, between Margeride and Aubrac, the hotel-restaurant LE REGIMBAL invites you for a relaxing stay in the heart of Lozere.
---
AUBERGE DU VERDY
Fixed telephone : +33 4 66 31 60 97
Address : Le village
48310 TERMES
---
AUBERGE LA MAISON DE ROSALIE
Fixed telephone : +33 4 66 32 55 14
Address : Montgros
48260 NASBINALS
---
CHEZ CAMILLOU
Fixed telephone : +33 4 66 42 80 22
Fax : +33 4 66 42 93 70
Address : 10 route du Languedoc Aumont-Aubrac
48130 PEYRE EN AUBRAC
---
HOTEL DE FRANCE
Fixed telephone : +33 4 66 32 50 19
Fax : +33 4 66 32 55 42
Address : ROUTE D'AUBRAC
48260 NASBINALS
---
HOTEL DEL FAOU
Fixed telephone : +33 4 66 31 11 00
Fax : +33 4 66 31 30 00
Address : Fau-de-Peyre
48130 PEYRE EN AUBRAC
---
HOTEL LA RANDONNEE
Fixed telephone : +33 4 66 32 50 03
Address : Le Village Route de la Rosée du Matin
48260 NASBINALS
---
HOTEL LA ROUTE D'ARGENT
Fixed telephone : +33 4 66 32 50 03
Address : Le Village
48260 NASBINALS
---
HOTEL LE BASTIDE
Fixed telephone : +33 4 66 32 50 03
Address : Route de Marvejols
48260 NASBINALS
---
HOTEL LE VERMONDOIS
Fixed telephone : +33 4 66 32 87 37
---
HOTEL LES GENETS D'OR
Fixed telephone : +33 4 66 32 52 13
Address : Les genêts d'or
48260 RECOULES-D'AUBRAC
---
HOTEL RELAIS DE L'AUBRAC
Fixed telephone : +33 4 66 32 52 06
Fax : +33 4 66 32 56 58
Address : Le Pont du Gournier
48260 RECOULES-D'AUBRAC
---
HÔTEL PRUNIERES
Fixed telephone : +33 4 66 42 80 14
Fax : +33 4 66 42 92 20
Address : Place du Relais Aumont-Aubrac
48130 PEYRE EN AUBRAC
---
LES HAMEAUX DE LA LOZERE
Fixed telephone : +33 4 66 31 67 67
Fax : +33 4 66 31 67 60
---
LINETTE
Fixed telephone : +33 4 66 42 85 88
Address : 9 rue du Languedoc Aumont-Aubrac
48130 PEYRE EN AUBRAC